Howl Storefronts give you the option of creating a single, personalized link where you can host all of your Howl products in easy-to-shop collections. Storefronts help your audience easily discover and buy more of your recommended products. You can add your Storefront link to your social media bio and link to product collections in individual posts to help your audience discover multiple products in one post.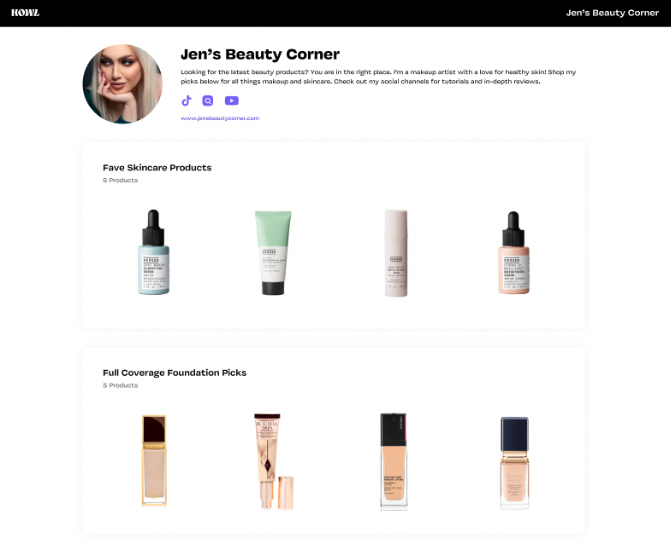 How to create and publish a Storefront
To create and edit your Storefront on your planethowl.com dashboard, navigate to My Storefront on the nav bar under Links.
Click "Get Started" to create a Storefront. Upload a profile image and fill in your Storefront details. Once you've filled out all the required fields, click the preview icon in the upper right corner to see how your Storefront will appear when published. You can edit your Storefront details at any time.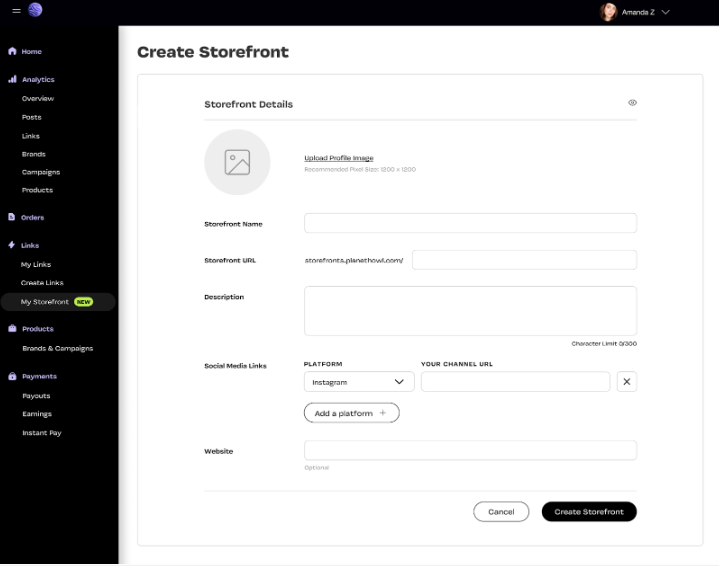 Once you have created a Storefront, click the "Create Collection" button. Collections help you organize products by category or by theme (such as "My Top Products"). Create a collection by following these steps:

Give your collection a name and include an optional description to help your audience learn more about this collection.

Select links to add products to your collection. Note: You must create your Howl links under the

My Links

tab of the nav bar before you can add them to a collection. Check out our

How to create and share links

article in the Help Center if you need help creating links before adding them to a collection.

Confirm your product selection(s). You can edit the product image, brand name, product name, and add a description. You can also rearrange products in your collection and delete any products that you no longer want to include.

To publish your collection, click on the three dots menu at the upper left of the collection and select "Publish".

You can also save a draft of your collection at any point and return to work on your collection at a later time.

Once you have published your collection, you can revert to draft, edit it, or delete it by clicking on the three dots menu at the top left of each collection.
Once you have one or more collections published, you are ready to publish your Storefront and make it available to your audience. To do this, head to the top of the Storefront page and flip the "Publish" toggle. Once your Storefront is published it is accessible via a public facing URL. You can find this URL on the top right of the Storefront page. Copy and paste this URL to share your Storefront with your audience. You can also share individual collection links with your audience. Head to the three dots menu at the upper left of the collection and click on "Publish Collection".

Some tips for building a great Storefront
Create multiple collections

Create collections for your top posts and major sale events, or to organize your favorite products. You can update descriptions to tell your audience why you love a product.
Pin your Storefront to drive sales

Top-performing creators add their Storefronts to their link in bio. If you use tools like Linktree, make your Storefront your first link for better discoverability.
Link directly to collections

Create posts or stories around a theme or group of products such as a sale event or your favorite types of products. You can link directly to a collection so your audience can shop it all.
Keep it updated

Make a habit of creating new collections for your posts so your Storefront stays fresh. You can also easily unpublish outdated collections, or rearrange collections to put the most relevant ones at the top.