Howl Storefronts allow you to create a single personalized link to showcase all your Howl products in easy-to-shop collections. This helps your audience discover and purchase more of your recommended products. You can add your Storefront link to your social media bio and link to product collections in your individual posts for seamless shopping experiences.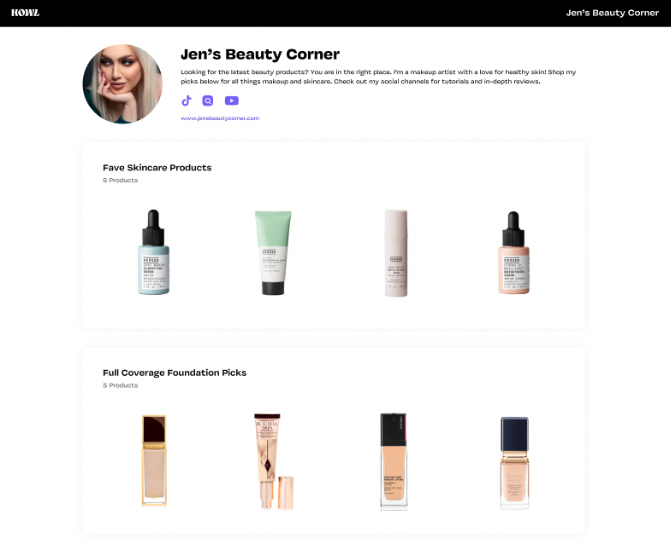 What's new in Storefronts (as of Jan '23)
You can now add 'External Links' (links from any source) to your Storefronts, not just Howl Links. Please note External Links do not monetize through Howl.
You can view Collection-level analytics on your Storefront, including clicks, revenue, earnings, AOV and conversion.
You can create new links directly from your Storefront, and add links via the

Chrome Extension

and

My Links

feature. You can also view if links in your Storefront are dynamic or exclusive.
You can now embed social content in a Storefront collection. When creating or editing a collection (see below), add your URL and the content will automatically be shown side to side with your collection.
Creating Your Storefront
To create and edit your Storefront on your planethowl.com dashboard, navigate to Storefront on the navigation bar under My Products.
Click "Get Started" to create a Storefront. Upload a profile image and fill in your Storefront details. Once you've filled out all the required fields, click the preview icon in the upper right corner to see how your Storefront will appear when published. You can edit your Storefront details at any time.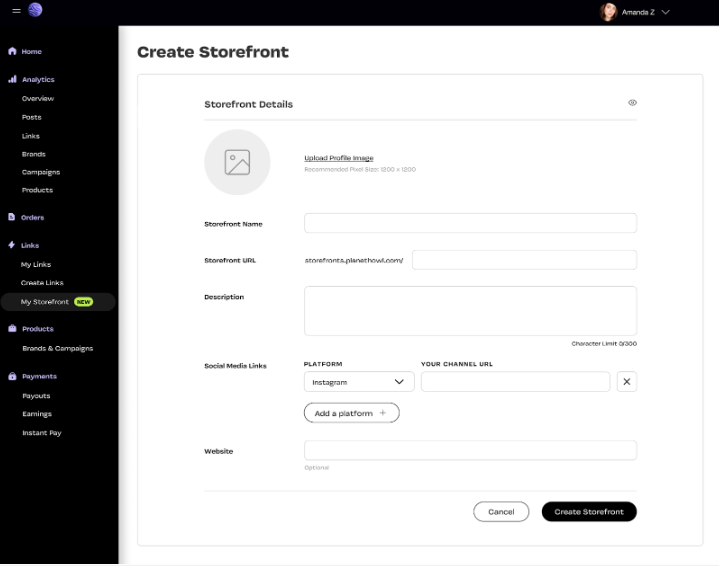 Creating or Editing a Collection
After creating a Storefront, click "Create Collection." Collections help you organize products by category or theme (e.g., "My Top Products"). Follow these steps:
Give your collection a name and add an optional description.
Select links to add products to your collection (create Howl links under the "My Links" tab first).
Confirm your product selection(s), edit product details, and rearrange or delete products.
You can also embed social content in a collection by adding a social post URL.
To publish, click on the three dots menu and select "Publish." You can save drafts and edit or delete collections later.


Publishing Your Storefront
Once you have one or more collections published, go to the top of the Storefront page and flip the "Publish" toggle. Your Storefront will have a public URL for sharing. Share individual collection links by clicking "Publish Collection" in the collection's menu.


Tips for Building a Great Storefront

Create multiple collections

Create collections for your top posts and major sale events, or to organize your favorite products. You can update descriptions to tell your audience why you love a product.
Pin your Storefront to drive sales

Top-performing creators add their Storefronts to their link in bio. If you use tools like Linktree, make your Storefront your first link for better discoverability. With External Links, you can include all your recommended products in one place.
Link directly to collections

Create posts or stories around a theme or group of products such as a sale event or your favorite types of products. You can link directly to a collection so your audience can shop it all.
Keep it updated

Make a habit of creating new collections for your posts so your Storefront stays fresh. You can also easily unpublish outdated collections, or rearrange collections to put the most relevant ones at the top.